Leather Spinsters Newsletter August 99

Inside this Newsletter

1. Article

A. The Betrayal
B. Don't Worry Be Happy

2. Inspiration Corner
3. Spinster Letters
4. Southwest Potato Pancakes
5. Advertisements

The Betrayal

What final touch of insanity puts you over the edge to start a business? Circumstances, ambition, lifestyle choices, job security, and financial freedom are just some of the reasons that come to mind. Personally, self-employment wasn't my first career choice but, I chose this road for all of the above.

After my first child was born, I felt emotionally torn between being a great Advertising Art Director, with all the excitement and long hours accompanying the title, and June Cleaver, the quintessential perfect "Mom". The turning point occurred during a critical deadline when I received a phone call from the day care center stating that my 1 year old was very sick and had to be picked up immediately. Not being at liberty to leave, I simply called my husband. He refused for no other reason than he felt it was not his responsibility! To make a long story short, after exhausting all other options I left in the middle of the deadline. My superiors declared me unreliable and unprofessional for doing so, and, just like that, no more job. Up to that point I had been considered a valuable asset to the agency.

I felt betrayed by those around me and in despair questioned everything from my professionalism and career choice to my marriage and parenting skills. I desperately needed to find an acceptable compromise between personal priorities and career goals yet still meet my financial obligations. Hence, the idea to create Dawn Olivares - Advertising & Graphic Design, a home-based Advertising Agency and Graphic Design Studio that would provide creative services to the small and mid-sized business community.

Ideas are easy, however, turning them into reality proved a bit more difficult. It seemed as if the list of questions went on forever. Was there a demand for my services? How much should I charge? How would I locate clients? How would I finance startup? What did I need to know about business structure, accounting, taxes, legalities and insurance? How would I handle my spouse's lack of support? What if I failed? And, when I learned the answer to one question it forced me to ask another twelve. I read every business and marketing book I could find yet still walked around with my head reeling at the sheer volume of what I didn't know.

After five long years of finding answers, working unfulfilling jobs, and preparing I finally felt ready. With a huge smile on my face, I tendered my last written resignation on my company letterhead. From the word go every day offered something new and exciting and for a brief time I was truly happy. Unfortunately, as my business grew, so did the problems in my marriage. Once again, I found myself in a lose, lose situation where I had to choose between family and career, except this time I refused to allow someone else to influence my priorities. I took a leap of faith and kept the business, the kids, and the house. I haven't looked back.
*To anyone thinking about starting a business or becoming self-employed consider the following advice.

*To succeed you have to set goals you believe in and be able to motivate yourself to reach them.

*Define your own idea of success. It's personal and different for everyone.

*Believe in yourself and your ideas. Your own negativity is your worst enemy with naysayers ranking a close second.

*You will make mistakes so get over ALL of them now. Mistakes are nothing more than a learning opportunity.

*Forget you even have a "comfort zone."

*Treat your customers with respect and do not make promises you can't keep.

*Negative publicity works faster and lasts longer. The customer is not always right but if one walks away mad you can be sure a lot of people will hear about it.

*Hire professionals to handle the areas of business you do not understand, especially in accounting. The IRS will appreciate it.

*Develop a marketing plan that uses a variety of techniques and stick with it even when business is booming.

*Every time you hand out a business card, send a letter or leave behind a brochure make sure it presents a professional image. It doesn't have to be expensive but, if it looks cheap, that's the image the prospect will walk away with.
You may notice that half my advice involves emotional issues. There are literally thousands of books written by experts on the subject of marketing and business startups but, what you cannot learn from a book is how you will react as a business owner. If you cannot keep yourself "up" when business is down, and the thought of doing without a regular paycheck makes you break out in hives, this isn't for you. On the other hand, if you thrive on challenges and change, you are bound to succeed.
Now that I'm celebrating my seventh year in business I look back and reflect. Would I do it all again? Certainly! I've experienced an enormous sense of personal and professional growth and have successfully weathered some pretty severe downs. I work long hours but, I have the freedom to be flexible, I'm here for my children when they need me, I earn as much as I want or as little as I need, and I wear so many hats I don't have time to be bored. I'm happy. What more could I ask?
Dawn Olivares is the owner of Dawn Olivares -Advertising & Graphic Design, providing print advertising, graphic design and printing services to small- to medium-sized businesses. Phone: 770-925-2021 email:dolivares@mindspring.com
REMEMBER WHEN YOU WERE A KID AND YOU TRADED TOY'S WITH YOUR FRIENDS..WELL THAT WAS THEN .....AND THIS NOW.. TARGETBARTER.COM --FREE TO JOIN !!!- LIST AN ITEM TO TRADE:bikes, cars, lamps, stereo's, travel, skates, T.V.'s, C.D.players,video games, clothes, collectibles,jewelry,etc...NEW OR USED and get $250.credit to spend immediately. http://www.TargetBarter.comTHE VIRTUAL MARKETPLACE ,WHERE YOU CAN TURN THE UNUSED INTO THE USABLE...YOU NEVER KNOW WHAT YOU'LL FIND,ON TARGETBARTER. VISIT, SEE, BUY !!!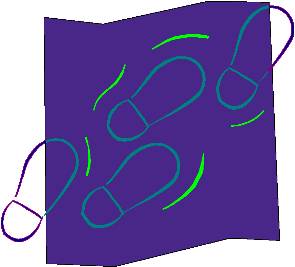 The footsteps of those proud spinsters that have gone before and those that are soon to follow.



Don't Worry Be Happy


Years ago there was a hit record entitled Don't Worry Be Happy and everyone thought it was cute and the message a cliche'. In a undisciplined world of chaos,unhappiness, and mistrust we thought a song about ridding ourselves of needless worry was cute. The message it promoted is ageless and have always been preached but civilized cultures like the one we live in today have always scuffed at the simplisticities of life opting for a hurried and worried existence.If you're ready to break that chain of destruction, that's exactly what worry is, then here's the seven ways to do so:

1. You must fill your minds with thoughts of peace,courage,and hope.

2. Don't waste your time trying to get even with someone who has done you wrong. Try to find forgiveness for them in your hearts.

3. Don't worry about ingratitude expect it from those around you. Think of how memorable the show of gratitude will be when you do receive it.

4. Focus on your blessings and not your heartaches, misfortunes, or obstacles.

5. Your life shouldn't be an imitation of others but rather one of self-invention to reflect your true self.

6. Like the old saying goes,"when life hands you lemons make lemonade." Don't become overwhelmed by obstacles instead do what you can do and don't sweat the rest. Leave room to learn and benefit from those obstacles.

7. Focusing on helping others will prevent you from focusing on your troubles thus giving them an opportunity to work themselves out without strife or worry on your part.
If you follow the Don't Worry Be Happy seven rules your entire life will be transformed beyond your imagination. Simple reasoning but highly effective. Give yourself 21 days and put these rules to work for you.

Inspiration Corner



I 'm thankful that my mother decided there was room for me in her life. She didn't have a husband when she adopted me and she raised me to be a decent person. So what I'm saying is there's no truth to the belief single women can't provide good homes for children. It's done all the time after a divorce so why not let them adopt.

I shared the article on Adoption with my mother and she told me it was right on the money. She had a hard time when she first approached adoption agencies in the sixties but lucky for me she overcame. So for this I'm thankful and want to do the same for someone else. 37,Susan Nicholson

Spinster Letters


When I saw Waiting to Exhale I had the same response as Yuncie, how could a mother encourage a daughter to have an adulturous affair so she would never be "alone"? Boy, what kind of mother not to mention woman would even consider recommending a relationship with a married man? Jonie

I had adopted my daughter in 1972 when she was six years old. I was told since she was diagnosed as "retarded" it would be ok for me to adopt her. My daughter was misdiagnosed and is now a healthy pediatrician so the joke's on the officials who thought single women didn't deserve to raise "normal" children. Stephanie Williams


MORTGAGE RATES ARE STEADILY RISING If you are in the market for a New Home Loan, Refinancing an Existing Home or an Equity Loan, Creative Mortgage Company can help you! Loans in 37 states! Good Credit or…Not so Good. Visit our website at http://www.creativemortgageco.com/ You'll be glad you did! FREE Bi-Monthly newsletter with helpful tips for potential homebuyers. Sign up at the site or at http://www.onelist.com/subscribe/0nly4Homebuyers/


Southwest Potato Pancakes

This is a morning favorite of mine and could be for you too! Simple to make and quite nutritious.

1 large baking potato (grated)
1/2 teaspoon black pepper
1/2 teaspoon of minced garlic
1/2 teaspoon of cayenne pepper
1/2 of medium bell pepper (chopped)
2 medium finely chopped jalapenos (optional)*
1/2 teaspoon of salt
1/2 minced onion
1 small egg
1/2 cup of grated colby jack cheese
4 tablespoons of bacon bits
5 tablespoons of vegetable oil
Mix all the ingredients minus the oil together in bowl. Then pour the contents into pan with hot oil. Spread the contents to cover entire pan bottom, cook until golden brown. Turn to brown the other side, do so carefully so as to not break pancake in two.Serve with salsa or Pico De Gallo.


ADVERTISING
Let advertisers know where you saw their ads.
*****************************************


The OnlineSALON- a unique site where members can try on
hundreds of hairstyles right on the Web. Members email
us their photo and within a few hours can experiment
with styles and colors. http://intouch-2000.com/onlinesalon


***********************************************************
MARKETING/BUSINESS DEVELOPMENT.
Communication is more than a fiber optic telephone line, a plain paper
fax machine and the latest PC. It is knowing how to speak the language
of your prospective client, customer, partner or vendor. Call us at
770-393-8966 for expert international marketing and business
development support or e-mail intbiz@juno.com. The Oliver/Sorano
Group, Inc., Post Office Box 28613, Atlanta GA 30358, USA.


*****************************************
"Language! ... the blood of the soul, sir! ... into which our
thoughts run, and out of which they grow ... Every language is a temple
in which the soul of those who speak it is enshrined." Oliver Wendell Holmes
Maloof Language Services, Inc. Tel: (877) 600-9081
(toll free within the U.S.)Fax: (770) 698-8112 E-mail:
mmaloof@sprintmail.com Maloof Language Services

***********************************************************
You've tried the rest, now try the best... Discover Arbonne's Pure Swiss
Skin Care & Nutrition. Free of harmful ingredients such as mineral oil and
petroleum (refinements of crude oil!), sticky waxes, SD40 alcohols, animal
by-products, collagen,lanolin, artificial colors and fragrance. Herbal &
botanical based, pH correct, dermatologist tested and doctor recommended.
Arbonne never tests on animals.
Kathy Whittington * 614-833-2366 * Fax 614-837-2760 * 30 Timber Ridge Dr.,
Pickerington OH 43147-1173 http://www.ds.net/~kathyw * kathyw@ds.net

*************************************************************


The Ex-Wives Club is an on-line community for
women dealing with a broken marriage or relationship.
We offer a safe environment of resources and friends
to help you manage your life in a positive fashion.Join
The Ex-Wives Club and talk to people who truly
understand what you're dealing with!
http://www.exwivesclub.com
mailto:editors@exwivesclub.com To subscribe to the
Ex-Wives Club's Newsletter, send a blank email to:
exwives-online-subscribe@onelist.com ************************************************************
How would you like to have your customers place their order,
have the money deposited in your bank account and the
products packaged and shipped without ever touching a
thing? No answering the phone to take orders. No logging on
to the net everyday to check orders. Everything is done
automatically.For more info,tools15@jbmarketingtips.com
J & B Marketing Group 1-888-745-2939

************************************************************
If you would like to discuss our unique opportunity to earn money
part-time r full-time, drop me a line by e-mail or meet me on ICQ.
This is an online business opportunity so we might as well meet
where you'll be working if you join our team!
Dream Catchers International Global Independent USANA
Distributors Rhonda Pilgrim (B.Ed.) & Ritchie Pilgrim Canada
Email rr.pilgrim@sk.sympatico.ca ICQ # 6524537
Want more information about the USANA opportunity???
24 Hour Fax on Demand: (714) 635-2000 Document #6316
24 Hour Recorded Message by Robert Allen (801) 235-0600
24 Hour Recorded Conference Calls (801) 526-8444

****************************************************************


Quit Wasting Your Time!
You KNOW Ezines are where you need your ads. But getting all the
info you need about rates, circulation, deadlines, rules, payments,
takes SO much time! The Directory of Ezines is your solution. Finally,
everything you need to place your ads where they REALLY work. It's
quick, it's easy, it's up-to-date and it's all immediately accessible! Go to:
http://www.lifestylespub.com

***************************************************************


Ideas 96 - Success / Submit Business Resource Here Ideas 96
Business, Communications, Community, Computer, Comsumer,
Education, Entertainment, Government, Manufacturing, Medical,
Real Estate ,Technology, Tourism, Transportation.




****************************************************************



Ask me about my business! Become a Watkins independant Representative!
Watkins has been enhacing lives since 1868...take a look at our page and if
you decide to signup..reference id #134871. Watkins



****************************************************************
EVER HAD A TORN TAMPON WRAPPER?
Dropped a pad from your purse in public? Didn't know how to
conceal your feminine hygiene product? Now there's Personal
Attitude, discreet and stylish custom-sized carriers for feminine
hygiene and selected incontinence products. Created by Women,
for Women. To see our complete line and takeadvantage of
our secure on-line ordering system, visit us at Personal Attitude or
call 1-888-806-4100. Write to Personal Attitude, Inc. 45 West 67
Street, Suite 17A, New York, NY 10023.
****************************************************************
How would you like to have your customers place their order, have
the money deposited in your bank account and the products packaged and shipped
without ever touching a thing? No answering the phone to take orders. No logging
on to the net everyday to check orders. Everything is done automatically. For more
info, J & B Marketing Groupor call 1-888-745-2939

****************************************************************


Due to the increase in subscriptions and distribution the rates are reflecting those changes.
Ads in other sections add $40 extra per month*
4-6 line ads $200 month
7-9 line ads $250 month
add logo is additional $20
Up to 12 lines $420 month


We accept all major credit cards,money orders, and checks.


Mail,email, or fax advertising orders,letters, and comments:
St.Mary Publishing Company of Houston
C/O Advertising
Post Office Box 23111
Houston, Texas 77228-3111
1-713-267-0777 (voice)
1-603-250-1722 (fax)
leather@lycosemail.com
****************************************************************





RECOMMENDED TO OUR READERS!!!
The E-Zine AdSource Weekly (zine) covers all aspects of
advertising through E-Zines. It is filled with articles, tips
and help from professionals. It is FREE to subscribe -
send any e-mail to: ezineadsource-subscribe@egroups.com
(mailto:ezineadsource-subscribe@egroups.com) or visit the
site at: http://www.ezineadsource.com.