Leather Spinsters Newsletter November 99 Edition

Inside this Newsletter

1. Article

A. What's In A Word?

2. Spinster Letters
3. Inspiration Corner
4. Quick Fruit Turnovers
5. Holidays Announcement
6. Advertisements

What's In A Word?

In this issue I would like to address the terms leather spinster and asexuality. Recently two senior ladies wrote me notes expressing their concerns with the terms and the negative impact they have on single women:
Hi! Checked out your website after reading an article in the Houston Chronicle. A couple of comments and questions. The article said that part of your definition of a Leather Spinster is an upper age cutoff of 55. If accurate, why? I am 57 and counting, never married, heterosexual, not in a relationship, and as content as most people I know. And why choose the term "asexual"? If you are describing what is a valid, but previously unrecognized, lifestyle choice, then you need to coin a new term...one without the negative overtones of "asexual." My medical dictionary (I am a freelance medical writer) defines asexual as "1) having no evident sex or sex organs; sexless. 2) Relating to, produced by, or involving reproduction that occurs without the union of male and female gametes, as in binary fission or budding. 3) Lacking interest in or desire for sex." Is this really the best description of a Leather Spinster? You can argue that this is not your intent in using the term. However, since this IS the meaning of the term, you need to find one that is accurately descriptive. If this is the meaning you intended, maybe the age limit doesn't matter...I wouldn't qualify as a Leather Spinster on the grounds of not being asexual...Mary Carole McMann

I have a problem with the usage of the term leather spinster. How could you use such a word to describe us, itís disgusting and should not be used. You should know better being a child of the South, you know very well about the negatives associated with that word. Can there be another word used instead of spinster and that damn modern term leather spinster? One of your issues used the term steel magnolias, why not call us that? Katy McBride 62
I thought a public acknowledgment of their concerns were in order with the hopes of answering questions others may have concerning the terms mentioned above. The term asexual or asexuality as itís being used in this forum refers to a woman not interested or desirous of romantic and or sexual contact. Iím in no way defining all the readers of this publication as asexuals. The truth is majority of our readership identify as heterosexuals, be they sexually active or celibate they identify as straight.

One of the purposes of this newsletter was to give women who were not gay and were happily unmarried a method of communicating openly with one another. No offense was meant by the inclusion of asexual women. Lets face it weíre all in the same boat as far as our society is concerned. Undesired, frigid, gay, men-haters, misfits, and lets not forget neurotics, take your pick of the words used to describe happily spinstered women.

When I started this newsletter I was aware of the possible misinterpretation of the title due mainly to my writing of a book on the subject. Many of my over 50 interview subjects warned me about their peers not understanding educated women calling themselves spinsters. I can understand why those women had a problem with the term ďspinsterĒ because there was a time inwhich a woman were punished with that word.

Young women today understand the power of words which is why they openly call themselves spinsters or leather spinsters. Those words donít have the burn for them as it may had for our older sisters, no disrespect is intended but this is a publication that see nothing wrong with being an unmarried woman or using the term spinster loosely. We, as individuals give words their power to excite or depress not the words themselves so as an individual you should find a word or words that accurately describe you and your lifestyle.

Lets not forget the age question. A woman can be a leather spinster at any age. I made reference to women between the ages of 30-55 because they tend to be more liberal thinking in regards to the term spinster as compared to their older counterparts. If you see yourself as a leather spinster and that term donít bother you then youíre a leather spinster. Only you have the right to define yourself, to permit others to do so can be careless and dangerous.

Ladies please know thereís no love loss because you have opinions different than my own or maybe some of the other readers, your opinions are valued and appreciated here for they widen the ďBIG PICTUREĒ called reality.

Oh before I leave this subject I must clarify this newsletter is not anti-lesbian. I mentioned above and in previous articles how spinsters were frequently referred to as gay in this culture. I said that so others would know thereís a difference between the two groups. Iím sure there are lesbians who refer to themselves as spinsters and thereís nothing wrong with that, but, unlike our gay counterparts leather spinsters donít have many forums dedicated to their concerns. As a leather spinster I felt the need to reach out to others like myself. The Leather Spinsters Newsletter was the most effective but unintrusive manner inwhich I could communicate with leather spinsters without the criticism of others in our society regarding our chosen lifestyle.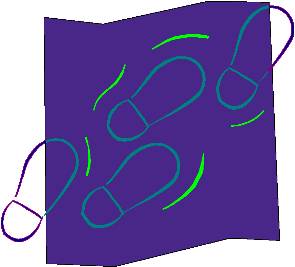 The footsteps of those proud spinsters that have gone before and those that are soon to follow.
Endeavors Newspaper For Single Parents
http://www.endeavor.risingltd.com

"With A Single Business In Mind"
906 Greenewald St / Van Wert Ohio 45891 / E-mail:endeavor@risingltd.com
Nine issues mailed annually directly to your home, business or po box. Visit
our website to find out how and where you can advertise your business for free,
send in your own success story or contribute to any of our other regular segments.
Support your fellow single parents in their endeavors and pursue your own.




JUMPSTART YOUR WEB PRESENCE and increase your online
sales and leads-- SELLING BY DESIGN.com specializes in high-impact
copywriting and design for Internet promotions. After all, the Web is as much
about DIRECT RESPONSE MARKETING as it is about branding and we
create and plan our promotions with that in mind! Sign up for our FREE
E-LETTER, Marketing for the New Millennium by sending an e-mail to:
subscribe@sellingbydesign.com or visit our Web site at
http://www.sellingbydesign.com. Discover the traffic-jamming creative
and planning services at SELLING BY DESIGN.COM -- e-mail or pay us a visit today!

Spinster Letters


Iím inspired by your readers. They are so honest about their lives. I wish I had women like them in my life when I was a young woman. Maybe I would not have made so many mistakes by getting married. I have 3 sisters and I am the next to the youngest. All of my sisters were married early in their twenties. When the holidays arrived I felt sad because I was not married. I married for the first time when I was 32 but he was not faithful. I was not able to have children so he had them with other women. He left me when I was 40.

I married again a year after he left me to another bad man. I had enough of his belittling of me so I left him. I did not know I was the type of woman who was to be single all her life but I am. I was always so very happy when single until the holidays came then I felt excluded. I did not accept life without a husband until I left my second husband at 46. Yes my family told me to stay with him because he was a good provider but I did not think his salary was a fair trade off for his horrible mouth. I have always worked. I had to work when married to first husband because all his money went to his mistresses. I still work today at 72. I like having my dog and cat they do not curse and swear at me. Life is good when you live the way you want. I applaud your readers for sharing their stories.




Grand Opening!! SnyderHaus Gifts and Collectibles
High quality gifts and collectibles at affordable prices!
Come visit and be prepared to stay awhile! Enter the
discount code...bks...and get 20% off everything you buy!
http://www.snyderhaus.com/

Inspiration Corner



I look forward to reading the letters in your newsletter each month. There were times I didnít think I could stand living alone another day but a letter in the newsletter would make me feel better.Thank you very much for being there when I needed inspiration.Mia

SUCCESS - PROFESSIONAL
COACHING/CONSULTING SERVICES
When was the last time you had someone in your corner?
A cheerleader, your own personal coach?Athletes
have coaches to help them reach their full potential
and people in all walks of life are finding that their
personal coach helps them build momentum, gain
focus and find success.Personal Coaching has been
featured in such publications as Money Magazine,The
New York Times and Newsweek. I bring twenty years
of sales and marketing experience to our coaching
partnership and will provide innovative solutions,
creative approaches, structure and support.Contact
by email at tamis@soltec.net.


Quick Fruit Turnovers

Have a taste for homemade turnovers? Here's a recipe for quick turnovers you can alter according to your tastes.

1 can of homestyle biscuits
1 14oz jar of fruit jam or preserves
1 stick of butter or margarine
small jar of cinnamon
Non stick cooking spray
Open a can of biscuits separating each biscuit and with a rolling pin roll them out.Spread soft butter generously on top of the rolled out biscuits. Add a 1/4 of teaspoon of cinnamon to each biscuit. Then place a tablespoon or more of jam/preserves on top. Fold each biscuit in half pinching the ends together to hold in filling. Coat the tops with butter,graulated sugar, and cinnamon. Place biscuits at least two inches apart on a baking sheet sprayed with a non-stick cooking spray. Bake for 10 minutes in a 350 degree oven or until golden brown. This recipe works great with the can croissant dough!


Holiday Announcement
I don't want anyone feeling unloved or forgotten during this holiday season so I'll be monitoring the board throughout Thanksgiving Day and Christmas Eve. I invite all of you to stop by share your thoughts.

There's a new chatroom so if any of you are interested in chatting Thanksgiving Day, Christmas Eve, Christmas Day, or New Year's Eve let me know and I'll post a schedule in the newsletter and ezine.

Smiles and blessings to all!!!
Regena


ADVERTISING
Let advertisers know where you saw their ads.
*****************************************
MARKETING/BUSINESS DEVELOPMENT.
Communication is more than a fiber optic telephone line, a plain paper
fax machine and the latest PC. It is knowing how to speak the language
of your prospective client, customer, partner or vendor. Call us at
770-393-8966 for expert international marketing and business
development support or e-mail intbiz@juno.com. The Oliver/Sorano
Group, Inc., Post Office Box 28613, Atlanta GA 30358, USA.


*****************************************
"Language! ... the blood of the soul, sir! ... into which our
thoughts run, and out of which they grow ... Every language is a temple
in which the soul of those who speak it is enshrined." Oliver Wendell Holmes
Maloof Language Services, Inc. Tel: (877) 600-9081
(toll free within the U.S.)Fax: (770) 698-8112 E-mail:
mmaloof@sprintmail.com Maloof Language Services

***********************************************************
You've tried the rest, now try the best... Discover Arbonne's Pure Swiss
Skin Care & Nutrition. Free of harmful ingredients such as mineral oil and
petroleum (refinements of crude oil!), sticky waxes, SD40 alcohols, animal
by-products, collagen,lanolin, artificial colors and fragrance. Herbal &
botanical based, pH correct, dermatologist tested and doctor recommended.
Arbonne never tests on animals.
Kathy Whittington * 614-833-2366 * Fax 614-837-2760 * 30 Timber Ridge Dr.,
Pickerington OH 43147-1173 http://www.ds.net/~kathyw * kathyw@ds.net

*************************************************************


The Ex-Wives Club is an on-line community for
women dealing with a broken marriage or relationship.
We offer a safe environment of resources and friends
to help you manage your life in a positive fashion.Join
The Ex-Wives Club and talk to people who truly
understand what you're dealing with!
http://www.exwivesclub.com
mailto:editors@exwivesclub.com To subscribe to the
Ex-Wives Club's Newsletter, send a blank email to:
exwives-online-subscribe@onelist.com ************************************************************
How would you like to have your customers place their order,
have the money deposited in your bank account and the
products packaged and shipped without ever touching a
thing? No answering the phone to take orders. No logging on
to the net everyday to check orders. Everything is done
automatically.For more info,tools15@jbmarketingtips.com
J & B Marketing Group 1-888-745-2939

************************************************************
If you would like to discuss our unique opportunity to earn money
part-time r full-time, drop me a line by e-mail or meet me on ICQ.
This is an online business opportunity so we might as well meet
where you'll be working if you join our team!
Dream Catchers International Global Independent USANA
Distributors Rhonda Pilgrim (B.Ed.) & Ritchie Pilgrim Canada
Email rr.pilgrim@sk.sympatico.ca ICQ # 6524537
Want more information about the USANA opportunity???
24 Hour Fax on Demand: (714) 635-2000 Document #6316
24 Hour Recorded Message by Robert Allen (801) 235-0600
24 Hour Recorded Conference Calls (801) 526-8444

****************************************************************


Quit Wasting Your Time!
You KNOW Ezines are where you need your ads. But getting all the
info you need about rates, circulation, deadlines, rules, payments,
takes SO much time! The Directory of Ezines is your solution. Finally,
everything you need to place your ads where they REALLY work. It's
quick, it's easy, it's up-to-date and it's all immediately accessible! Go to:
http://www.lifestylespub.com

***************************************************************


Ideas 96 - Success / Submit Business Resource Here Ideas 96
Business, Communications, Community, Computer, Comsumer,
Education, Entertainment, Government, Manufacturing, Medical,
Real Estate ,Technology, Tourism, Transportation.




************************************************************
Scent-sation of the Month Club by Aroma Thyme-- A club to soothe
the senses Aroma Thymeor Toll free # 1-888- Aroma-99

************************************************************



Ask me about my business! Become a Watkins independant Representative!
Watkins has been enhacing lives since 1868...take a look at our page and if
you decide to signup..reference id #134871. Watkins

****************************************************************
EVER HAD A TORN TAMPON WRAPPER?
Dropped a pad from your purse in public? Didn't know how to
conceal your feminine hygiene product? Now there's Personal
Attitude, discreet and stylish custom-sized carriers for feminine
hygiene and selected incontinence products. Created by Women,
for Women. To see our complete line and takeadvantage of
our secure on-line ordering system, visit us at Personal Attitude or
call 1-888-806-4100. Write to Personal Attitude, Inc. 45 West 67
Street, Suite 17A, New York, NY 10023.
****************************************************************
How would you like to have your customers place their order, have
the money deposited in your bank account and the products packaged and shipped
without ever touching a thing? No answering the phone to take orders. No logging
on to the net everyday to check orders. Everything is done automatically. For more
info, J & B Marketing Groupor call 1-888-745-2939 ****************************************************************





RECOMMENDED TO OUR READERS!!!
The E-Zine AdSource Weekly (zine) covers all aspects of
advertising through E-Zines. It is filled with articles, tips
and help from professionals. It is FREE to subscribe -
send any e-mail to: ezineadsource-subscribe@egroups.com
(mailto:ezineadsource-subscribe@egroups.com) or visit the
site at: http://www.ezineadsource.com.


****************************************************************


Due to the increase in subscriptions and distribution the
rates are reflecting those changes.
4-6 line ads $200 month
7-9 line ads $250 month
add logo is additional $20
Up to 12 lines $420 month


We accept all major credit cards,money orders, and checks.


Mail,email, or fax advertising orders,letters, and comments:
St.Mary Publishing Company of Houston
C/O Advertising
Post Office Box 23111
Houston, Texas 77228-3111
1-877-282-5095 (voice)
1-603-250-1722 (fax)
leatherspinsters@mailcity.com
****************************************************************